Your Trusted DC Movers for a Seamless Relocation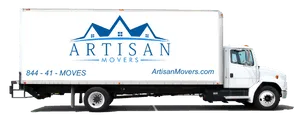 DC MOVERS THAT AIM TO PLEASE
Moving can be a daunting task, especially in a bustling city like Washington, D.C. When you're faced with the challenge of relocating to a new home or office, Artisan Movers is here to make the process smooth and stress-free. As your dedicated DC movers, we understand the unique demands of moving within the city and are prepared to tackle any obstacle that comes our way.
Navigating the bustling streets and intricate neighborhoods of Washington, D.C. requires a skilled and experienced team of movers. The tight parking spaces, traffic congestion, and strict regulations can easily turn a simple move into a logistical nightmare. As movers in DC, we recognize that these challenges are all too common for our customers.
At Artisan Movers, we take a proactive approach to address the challenges of moving in Washington, D.C. Our team of seasoned professionals is well-versed in the intricacies of the city, allowing us to develop effective strategies that minimize obstacles and streamline the moving process.
OUR LOCAL MOVING SERVICES IN DC INCLUDE
Step 1: Personalized Moving Plan
When you choose Artisan Movers, we assign a dedicated moving coordinator to work closely with you. Our team assesses the unique aspects of your move, including the origin, destination, and any potential obstacles. We create a personalized moving plan that outlines every detail, ensuring a seamless transition.
Step 2: Expert Logistics
Our experienced DC movers understand the city's layout, traffic patterns, and regulations. We use this knowledge to meticulously plan the logistics of your move, from choosing the optimal route to coordinating the timing to avoid peak traffic hours.
Step 3: Professional Packing Services
One of the biggest challenges during a move is packing and protecting your belongings. Our skilled packers use high-quality materials to safeguard your items, ensuring they arrive at your new location in pristine condition. We handle fragile items, electronics, and valuable possessions with the utmost care.
Step 4: Efficient Loading and Unloading
Navigating narrow streets and managing loading and unloading in busy areas are obstacles we handle with precision. Our movers in DC are equipped with the tools and expertise needed to safely transport your belongings in and out of your new space.
Choosing Artisan Movers for your DC move yields outstanding results
Stress-Free Experience: Our customer-centric approach alleviates the stress associated with moving in a challenging city like Washington, D.C. We handle the logistics, leaving you free to focus on settling into your new space.
Timely and Efficient: With our expert planning and knowledge of the city, we execute your move efficiently, minimizing downtime and ensuring you're back up and running in no time.
Protection of Belongings: Our careful packing techniques and handling procedures ensure that your items are transported safely, giving you peace of mind throughout the entire process.
Local Expertise: As movers in DC, we pride ourselves on our understanding of the city's neighborhoods, traffic, and regulations. This expertise translates to a smoother move for you.
Customer Satisfaction: Our dedication to your satisfaction is unwavering. We strive to exceed your expectations at every step of the moving process.
Why Choose Artisan Movers?
Experience: With years of experience as DC movers, we have honed our skills in overcoming the challenges associated with moving in the city.
Expertise: Our team's deep understanding of Washington, D.C. ensures a successful move that accounts for every detail.
Reliability: You can count on us to be punctual, dependable, and committed to making your move a success.
Customer-Centric: Your needs are at the forefront of our approach. We tailor our services to meet your specific requirements.
Are you ready to experience a stress-free move in Washington, D.C.? Contact Artisan Movers today for a free quote. Our dedicated team is here to guide you through the entire process and provide the exceptional moving experience you deserve.
Other Services that you might be interested in
We have what it takes to help your business prosper
Reach Out to Artisan Movers Today
People who need five-star professional local moving services in DC can take it easy today. Reach out to Artisan Movers right now to learn more about our local moving expertise. Reach out to us today to get a quote as well. We want to help you with your next local move. We want to guarantee that your local move is as efficient, organized and simple as possible. Call us now to speak to a helpful, kind and assiduous company representative. Our team members are on hand to provide you with any information you may need.