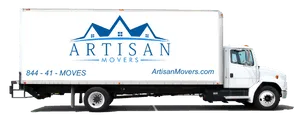 MD, VA & DC Long Distance Moving Service
The relocation process is never simple or hassle-free for anybody. It can be particularly tough for people who need to move long distances as well. If you're currently in the middle of planning a tiring long-haul move, however, you certainly don't have to go it alone. That's because our trusted company is on hand to offer you the finest and most comprehensive professional long distance moving service you can imagine. Artisan Movers is a trusted name in the relocation world. We're a family-run business that aids customers with moves of all varieties. It doesn't matter if you need assistance with a simple and straightforward local move. It doesn't matter if you need help with a long distance move that's substantially more complex and grueling, either. Our skilled moving team is available to come to your rescue. We enthusiastically cater to the long-distance moving requirements of customers located all throughout the vast Washington, D.C. region. We're headquartered in nearby Rockville, Maryland.
We Specialize in All Types of Moves
Our movers are the epitome of professional, reliable and responsive. They have background with all different types of moves as well. If you're a bright-eyed newlywed who is moving from a small city apartment into a big new home in the suburbs, we can accommodate all of your needs.
If you're the head of a household that's relocating from one residence to another several states away, we can accommodate all of your requirements just as skillfully. There's no kind of move that we can't handle for you. Our team members happily take on moves of all sizes. We regularly work on long-distance moves that are big. We routinely work on long-distance moves that are considerably smaller, too.
This assistance can save you considerable amounts of time. Local moves can zap you of energy and vitality. That's why it can be so smart to invest in our top-quality packing service. Artisan Movers wants to do anything we can to make your local move smooth sailing. Who wants to have to agonize about packing and unpacking, anyway? We can ease those burdens for you by taking those responsibilities off your shoulders.
Another option to help alleviate some of those packing concerns is to start purging your home of items you may not need or want any longer but are still too good to simply junk.
Have you ever considered holding a moving sale? It's a great way to earn an extra buck to help offset the cost of hiring your movers and can also help to reduce the clutter in your home.
Other Services that you might be interested in
We have what it takes to help your business prosper
Reach Out to Artisan Movers Today
People who need five-star professional local moving services in Washington, D.C. can take it easy today. Reach out to Artisan Movers right now to learn more about our local moving expertise. Reach out to us today to get a quote as well. We want to help you with your next local move. We want to guarantee that your local move is as efficient, organized and simple as possible. Call us now to speak to a helpful, kind and assiduous company representative. Our team members are on hand to provide you with any information you may need.